Detective Charlie is coming next Autumn, be ready!

Charlie Holmes is LOKI's latest hero! She's a talented detective who can solve all of Mysteryville's enigmas. It's an idyllic and beautiful island but it's also the scene of a fair amount of odd stuff….
Your job is to help Detective Charlie find clues, question witnesses and bring everything back to the police station. But be careful! Don't be late because Detective Charlie never misses tea time. Come back quickly with the clues… and the culprit's name! Then, you can fill out your detective's notebook and count all your points.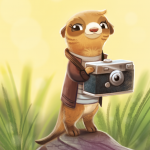 Detective Charlie, LOKI brand new game, will be released in October. Discover this wonderful new universe with characters each one cuter than the last who all live in Mysteryville. Take the time to get to know all of them! Super easy rules for super cute stories that will take you on this wonderful journey to an amazing universe.
Detective Charlie will be released next Autumn (to be confirmed).
The investigations were created by Les Fees Hilares, the game design comes to us from Theo Riviere and the illustrations from Piper Thibodeau.
Players 1 to 5 – Playtime 25' – Age 7+