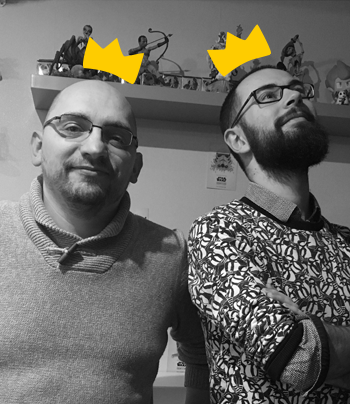 Designer Diary
Théo Rivière and Ludovic Maublanc
SOS DINO: a cooperative game for kids ages 7 and up
Who are they?
Since 2004 for one and 2003 for the other, we mostly create games just for fun. We met around a tabletop, talking game design. Both of us working better with a sidekick, it was only natural that we began to talk about several ideas. One of them was about four cute dinosaurs…
Tell us about your game
We both love dinosaurs and have wanted to create a game about them for a long time. One day, Théo found little erasers shaped like dinosaurs. We wanted to make a kid's game ever since. We really think dinosaurs are fascinating, but as a theme, they aren't very common. We were inspired by all of the popular imagery when developing the game's universe and story: volcanos, meteorites, dinosaurs fleeing to their nests.
In the very beginning, the game was simply called "The Dinosaur Game". Later, we called it "Attention Dino Danger" in homage to the awesome show Star-Crossed and the great singer Gilles Stella. Now, its final name is SOS Dino, a name that fits perfectly with the story and works well internationally!
The game appealed to the LOKI team because they were looking for a cooperative game. The mechanics and the components drew them to the game. It immerses kids into the game, since it tells a real story: you can see the lava flowing little by little. During playtesting sessions in schools, the game was a big hit. The students asked about it repeatedly and the game was memorable – such great news!
The plus side? This co-op game has a great story and super cool components!
Cooperation is a skill that we think is important to learn.
It's clearly a challenge to design a game for children when we're used to games for older players, but it was really nice to step out of our comfort zone and work on a type of game we've never tried before. We often questioned how many rules a kid could put up with, while still wanting a game with interesting choices. We didn't necessarily think of the educational aspect of the game while we were designing it, but more of the lessons that would result from playing. We wanted to create a cooperative game within this dynamic.
Anything else?
LOKI is cool!