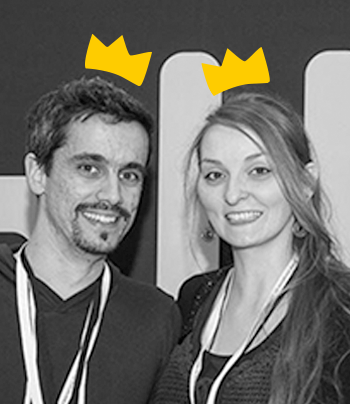 Designer Diary
Marie and Wilfried Fort
Farmini: a card game for kids ages 5 and up
Who are you?
We're a married couple and parents of 2 boys. We created our first game prototype in 2010 and we haven't stopped since! We rapidly fell in love with creating games for children. It's still our passion today, although our own kids have grown up a little bit!
Tell us about your game
The idea for the game came to us in August 2016, right after a week of vacation, isolated from the rest of the world in the mountains. We put our well-rested heads together with a few self-imposed requirements: make a game that doesn't take up much space and is fun for children and their parents. One idea led to another and we ended up with a nice game project to work on. In my field was born, and turned into what is now called Farmini.
When we think about it, Farmini was probably inspired by one of our old prototypes. It was a game with a lot, lot, lot of components (too, too, too many) in which you needed to fence in sheep to protect them from wild animals. This prototype quickly ended up in the back of the closet, but the central idea was anchored in our mind.
In our games, more so for children's games, we generally like to tell a story.
Because of this, the theme often arrives first and the game mechanic helps us to tell the story. For Farmini, the idea of creating fences around your farm was essentially the starting point for the game. We established the theme in the first instants of brainstorming! The theme, and more precisely the story we are telling, should make kids dream, travel, forget about their daily life… Whenever possible, we try to avoid every theme or story that doesn't meet this criterium. In Farmini, players expand their farm with fences that can protect either animals or cornfields. So there are two ways to score points with satisfying gameplay that is still accessible to children.
What changed during development?
Farmini was chosen by LOKI because they were looking for a small card game with a simple but efficient mechanic. It also had the added benefit of reaching a very young audience (5 years and up). Tile placement lets kids imagine themself in the space of the game and see the evolution of their farm. The wolf also adds an interesting tension to the game. These are just some of the aspects that convinced LOKI to add the game to their catalog!
During development, we regularly organized board game playtesting days at local elementary schools. We had such fun at these events! They allowed us to make sure the mechanics are suited to the target age group.
At the same time, the LOKI team also visited schools to test the games during the entire creative process to make sure they were kid-approved.
Anything else?
Thanks to the whole LOKI team! It was a true pleasure to work together!! We hope everyone enjoys playing Farmini, from the youngest to the oldest gamers!